Quality Design & Construction
At Specialty Kitchen, quality doesn't simply mean exceptional materials and craftsmanship. It means creating kitchen cabinetry tailored to the needs and desires of the customer. Whether you prefer the warm comfort of traditional kitchens, the sleek lines and rich tones of today's European-style kitchens, or the personality of mixed colors and textures of eclectic kitchens, Specialty Kitchen designs beautiful top-quality spaces for friends and family to enjoy as they create priceless memories.
Truly You & Truly Custom
No other room says more about who you are and how you live than your kitchen. So why not design a kitchen around just that? Your life. Your style. At Specialty Kitchen, we give you as many handcrafted kitchen cabinet choices as you have reasons. While no two Specialty Kitchen customized kitchens are exactly alike, they are all superior, durable, functional and beautiful.
Express yourself with textures, grains, colors, finishes, doors and cabinets. Design a custom kitchen layout that matches its forms to your functions — making your days and nights easier. Create colors that bring your kitchen to life, bring your character to the forefront with personal style elements that showcase who you are.
Define yourself, design your space
Construction- custom flexibility full-access & framed construction
Natural Wood Artistry– the perfection of natural imperfection
Finishing– excellent processing methods for superior results
Quality– dedicated to upholding high standards to provide premier quality
Wood Species– cabinets in sync with your life — drama of hickory, reassuring hues of cherry, durable comfort of oak
Specialty Kitchen & Bath has endless colors, combinations and choices for your customized space.
Framed Construction
Traditional framed cabinets feature a face frame on the cabinet box. The face frame masks the raw edges of the sides, where the doors are attached. The face frame features horizontal rails and vertical stiles designed to add rigidity and durability to the cabinet box. This frame creates a strong base for attaching hinges. Framed cabinetry can be used in any area of the home when utilizing one of the three variations that framed cabinetry offers: partial overlay, full overlay and inset. Each offering shows a different amount of the face frame.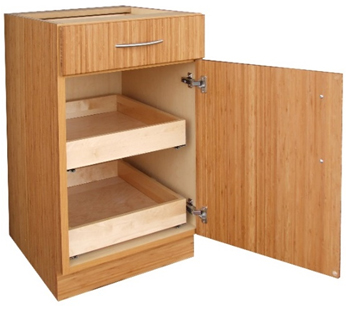 Frameless Construction
Full-access cabinets, also referred to as frameless or European-style cabinets, do not feature a front frame. The door is attached directly to the side of the cabinet wall minimizing space between doors when closed. Upon opening you will see the edge of the box instead of a frame; offering unobstructed access to the cabinet interior. The full-access cabinet provides a contemporary style, maximized storage space, wider drawers and rollout shelves, and provides continuous symmetry of door and drawer lines.
At Specialty Kitchen, our cabinets are not complete until they have been finished. This involves simple handcrafted methods that have withstood the test of time — hand sanding, rubbing, staining and cleaning; as well as the latest technologies — curing, sealing and inspection of your custom kitchen cabinets.
The Perfect Finishing Touch!
At Specialty Kitchen, we understand the importance of a quality finish that is perfect to the touch yet meets the demands of a rough and tumble kitchen or bath environment. Specialty Kitchen finish offers superior durability and eye-catching beauty. This level of quality is no accident. Success is in the details!